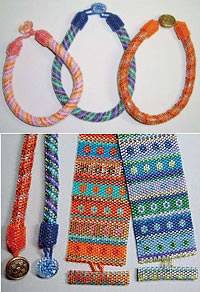 Color Play by Peggy Wright
Group Correspondence Course
The Stitchers by the Sea Chapter of the Greater Pacific Region (GPR) of The Embroiderers' Guild of America (EGA) meets monthly to learn about and practice the art of needlework. You are invited to be a guest at a meeting to learn more about EGA and our chapter.
We have just started our website and there is a lot more to do. We'll be having pictures of some of our projects and events soon, as well as more details on upcoming events and workshops. Many of us in the chapter are getting ready to start the Group Correspondence Course Color Play.
For more information about our chapter and EGA, contact Melinda at
Important Notice: Our meeting date is moving to the second Monday of the month, starting with the July 2013 meeting. See the Meetings page for more information.